Recycling E - Waste, Saving World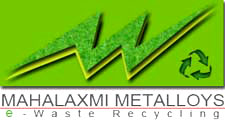 We know the science, we see the threat,


and we know the time for action is now

News & Events

Home »

News & Events

Dumping E-Waste Is illegal Now
It will be illegal to dump an old TV, mobile or laptop into the garbage bin or sell any of these to the local scrap dealer. Under the Electronic Waste (Management and Handling) Rules, 2011, notified a year ago and effective from May 1, such waste must be routed to one of 73 authorised recyclers in India.

"The rules allow a consumer to dispose of his old electronic item only through three means, authorised collection centres, or directly to any authorised recycler or the manufacturer," said an Environment Ministry official. India's e-waste hit an all-time high estimated at around 8 lakh metric tonnes in 2012.

Non-compliance can entail imprisonment or a fine. As of now, these penalties are only for manufacturers and bulk consumers.

Fastest Growing Sector Within Global Waste Industry
E-waste represents one of the fastest-growing sectors by volume within the global waste industry. The global WEEE (waste electrical and electronic equipment) recycling services market was estimated at $1,424.6 million in 2011.This is further expected to grow to $1,869.3 million in 2017 with a strong compounded annual growth rate of 4%.

The global economic slowdown affected the WEEE recycling market in as much as the prices of steel and plastics, for example, went on a steady decline, as did tonnages of e-waste in the market, states an analysis by Frost & Sullivan.

As a European centric market, growth rates were severely impacted as key regions in Western Europe remained stable and it is only now that the market has come back to the growth mode. The WEEE recycling services market is essentially dependent on legislation to act as the prime mover for market momentum. It is therefore no surprise that Europe is the leading region globally owing to the power of the WEEE directive and the presence of leading companies offering recycling expertise, the Frost & Sullivan report said.

E-Waste Could Help Prevent Bacterial Infections
In many research labs, scientists are trying to find uses for e-waste, such as turning the materials into Olympic medals and using old components to turn algae into a biofuel.

And now researchers at the University of York's Department of Chemistry have found a way to turn electronic waste from LCD screens into an anti-microbial substance that destroys infections such as Escherichia coli , some strains of Staphylococcus aureus and other unpronounceable, yet dangerous, types of bacteria.

Polyvinyl-alcohol (PVA) is a key element of LCD televisions. It's also a chemical compound that is compatible with the human body.

Pollution Panel Glare On E-Waste Disposal
Though six months have passed since the e-waste management rules came into force, organizations involved in manufacture, sale, and purchase and processing of electronic equipment in the state haven't yet pulled up their socks in this matter. The Odisha Pollution Control Board (OPCB) last week served notices to 844 business houses in Bhubaneswar and some other cities, which generate maximum electronic and electrical waste.

The organizations, including software firms, banks, mobile phone service providers and educational institutions, have been asked to implement the guidelines of the e-waste Management and Handling Rules, 2011, at the earliest, else face action as per law.

"We have urged the organizations to submit reports regarding their use of electronic gadgets and disposal of e-waste. They have been asked to hand over e-waste generated by them to the two authorized collectors in Bhubaneswar," OPCB's senior environmental scientist Dilip Kumar Behera told TOI. "At present, the collection of e-waste at the collection centres is not up to the mark due to lack of awareness. Users need to be sensitized more. We will hold workshops to sensitize stakeholders," Behera added.

Sources said Odisha generates around 3,000 tonne electronic garbage, like computer, TV, refrigerator and mobile phones that contain hazardous and toxic materials, posing serious threat to environment. Bulk of the e-waste is generated from Bhubaneswar, which is home to maximum number of government and private offices, commercial establishments, educational and research centres.

Construction Debris & E-Waste Recyclers Team Up
Green Energy Renewable Solutions has entered into a joint venture with eCycling USA to expand its Construction & Demolition Debris (C&D) deconstruction plans to include electronic and whiteware waste using a proprietary system developed in Germany. ECycling USA has already partnered with the German firm, called Adelman Umwelt GmbH, to implement 100 electronic waste (e-waste) demanufacturing and materials reclamation sites across the United States. Adelman currently has 60 plants operating throughout Europe.

Worldwide revenues from e-waste recovery were reported to be $8.5 billion in 2009 and are expected to grow to $13 billion by 2014. Currently, 3 million tons of e-waste is produced annually in the United States. Less than 20% of this amount is recycled and the annual amount will exceed 10 million tons by 2017.


---
---
---
---